As the place where Ax and I spent time figuring each other out, Martha's Vineyard has a special place in my heart and I often find myself yearning for the island. I've got my fair share of beach sand and sea glass—and now, I have some equestrian Vineyard style.
The Vineyard Equestrian was started by a friend of mine as a way to bring more tack shopping to the island without waiting for packages to take a trip over on the ferry. TVE has developed into a shop for necessities, cute tees, and some vineyard-made treasures. No surprise, I have accumulated a few things because: 1) I am all for the Vineyard, 2) Lillian is amazing, and 3) I am all for supporting small, local businesses.
The first item I purchased was the TVE Quarter Zip because I am a quarter zip queen (and the logo on the back is super cute). The fabric is light with a slippery feel, a bit of stretch for movement, and is meant to be able to be worn year-round.
Skeptical about the lack of mesh for ventilation, I tested out how it would hold up in the heat and was pleasantly surprised at how wicking it felt—I could wear it right alongside my sun shirts. For the fall, I prefer to throw on a vest and maybe a light jacket if it is really chilly—its a great base layer in the winter. Even after months of washing, the fabric and logo still look brand new.
My next purchase was a the TVE Logo Cap. Like all hats, this is perfect for covering your inevitable post-ride helmet hair. I love white hats because they basically go with everything and are super cute, but they have the tendency to turn brown after a while—especially if you are wearing them around ponies who smear their slobberies all over the place. Mine started to get an off-white tinge to it so I tossed it into the black hole of hat warping washing machine and it came out as good as new. Now I have convinced myself that I need one in navy as well.
My most recent purchase is the new Logo Long Sleeve Tee that is supposed to be for men but I stole it for myself (sorry Jose!). A classic long-sleeved shirt with the logo on the back and "The Vineyard Equestrian" printed down the arm, this shirt is super comfy for the coming fall days or late nights at the barn.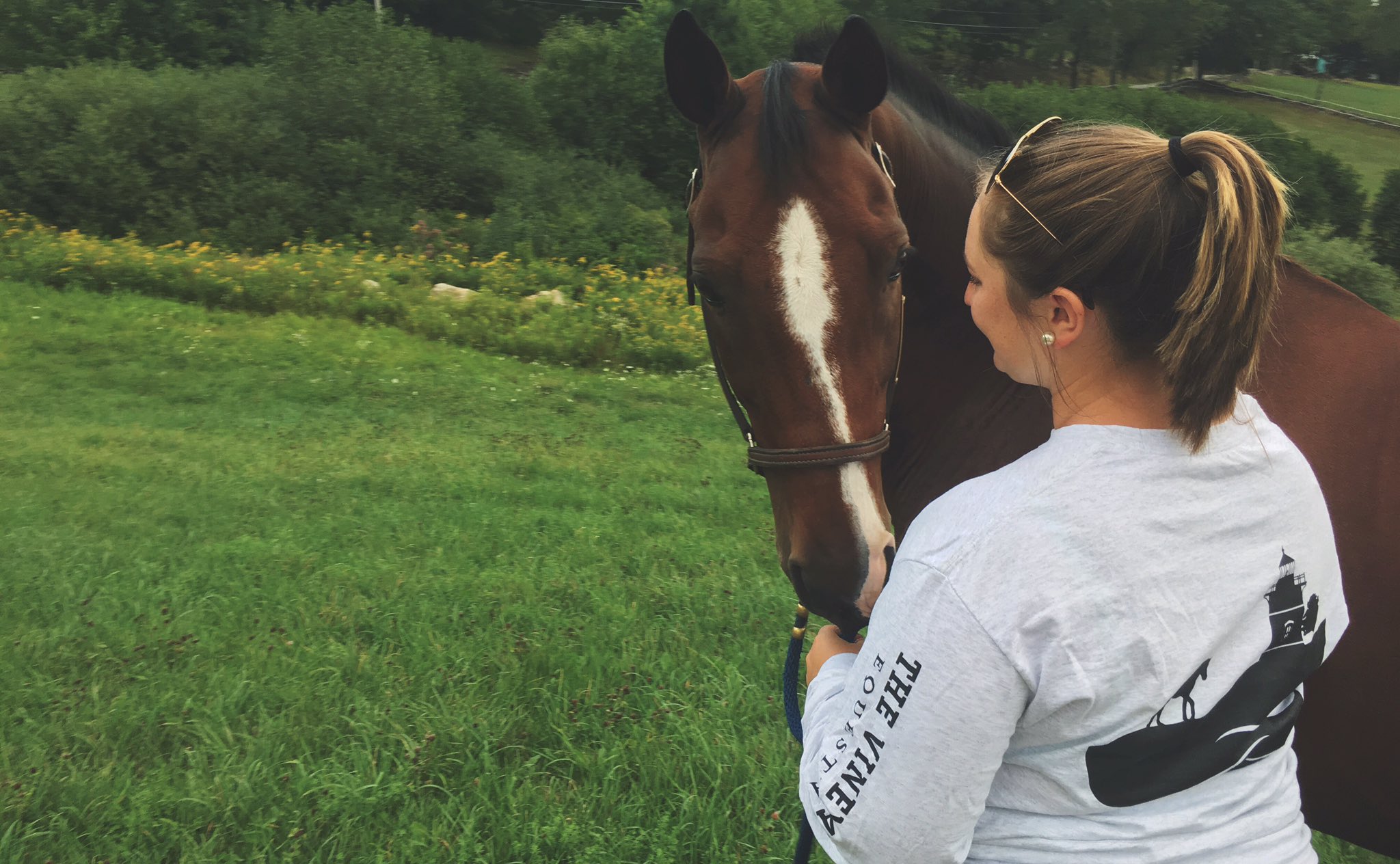 All of The Vineyard Equestrian's ambassadors (who are all amazing) have a discount code for 15% off of your purchase—check the TVE instagram to find the codes—so there is even more of a reason to shop! You can find all of TVE's apparel and other products here, plus her new Stay Wild tees that donate a percentage to the American Wild Horse Preservation Campaign in honor of her adorable Mustang, Tango!
-TC